How to Build Your Own Riding Area for Horses
How to Build Your Own Riding Area for Horses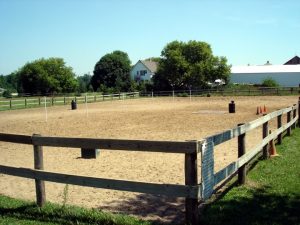 Building a stable for your well-loved horses is like building a house for yourself. It entails major considerations for maximum comfort and durability.
One should not forget weather as an important consideration when building a barn. Warm regions work well with a three-sided run-in shelter that gives adequate protection from storms. However, if you live in a four-season region, you need a more specialized kind of stable. Other than its adaptability to warm weather, the three-sided run-in stable is also ideal for limited space. Even in severe storms, your horses will remain sheltered. A minimum of 2 horses require a stable that is built at least 12 x 24 feet using proper fencing, and you can simply put a panel in the middle to serve as a partition, turning the setup into two stalls. A run-in shelter can easily be built by your local carpenter for you.
A barn is a much bigger home for your horses. It can be extravagant to the point of including mirrors, walls, and a heated viewing area. A barn specialists can design a state-of-the-art stable, providing you an ideal layout of features like:
Stall-plan -How many stalls you need, and how big they should be,
The aisle- It is important to build an aisle that is wide enough to lead your horses without incident,
Feed Room-You will need to build an enclosed room in which to store the feed,
Tack Room-This is where you will store all the tack and equipment for the horses,
Manure Pile-Plan where you will stack your manure when you muck,
Turn-out-where your paddocks are,
HayStorage- this is a place needed to store hay whether in a loft or in a part of the barn itself,
Grooming Areas -be sure to designate a specific area for grooming horses.
A Washroom and even Bedding Storage
Ventilation
Another important thing to consider when building a stable is proper ventilation. This eliminates harmful barn odor that comes in the form of ammonia. Prolonged exposure to ammonia poses a threat to health both to you and your horse. While regular cleaning helps, the long-term solution to barn odor is good ventilation that is designed by certified barn builders.
Horse barn plans are specifically designed to fulfill every equestrian's dream. You can have a large clear span riding arena, truck and trailer storage, office or living quarters, and comfortable horse stalls. This gives you the freedom to have just the kind of barn you need, based on your preferences and design requirements. This type of barn can be built to work to your advantage.
Structural Insulated Panels
Pole barn builders recommend structural insulated panels (SIPs) to create extra long-term value for your barn. These panels offer impact-resistant walls that are stronger and straighter and 50% more efficient than stick-built buildings. This also improves the temperature within your barn, as well as prevents air infiltration by virtually eliminating drafts.  Pole barn construction workers allow you to choose interior and exterior finishes for your new building. You can also add any feature of your choice, like cupolas, Dutch doors, and windows. Floor planning is also much important in barn building.
Resources